Before the pandemic, office workers had most of their work on desktop computers.
But when they had to work from home, work laptops ultimately made it easier for them to work conveniently by staying home.
The same goes for gaming. Over the years, the most powerful gaming laptops have taken over pc gaming.
The gaming laptop advances at a fast rate because of its high demand.
It houses more powerful CPU and graphic cards that ultimately boost gaming performance. Modern gaming laptops can run high demanding games at high settings.
Unlike other Gaming a better cooling system, more powerful fans, and better venting, along with solid gaming performance.
The ultimate benefit of a gaming laptop is that you can take your gaming with you everywhere. Gaming aside, it also can work as a regular laptop.
Look! You get everything you want in a single handy machine.
Razer Blade Pro 17 Review
Background
Razer blade pro 17 is a powerful all-in-one laptop with impressive specs, especially processor and graphics. This year's model comes with most features than last year's model.
It is one of the best-performing gaming laptops that we have ever seen. Razer Blade 17 comes with much better performance than its previous models.
Razer blade pro 17 offers a 1080p webcam and supports windows hello for logging in through facial recognition.
Razer Blade 17 is available with an excellent intel core i7 10875h processor, Nvidia GeForce RTX 3080 graphics, and more storage.
The CPU and GPU together deliver impressive power. It offers 32Gb ram with 1024GB of giant storage, which is more than enough to store your data.
Whether you use this laptop for video editing, web browsing, live streaming, or just gaming, blade 17 can perform every task efficiently due to its powerful specs.
Razer blade pro 17 effectively excels in the display qty, ultimately delivering big ticks for every task.
The large screen provides you with a desktop-like gaming experience that's highly appreciable.
We store cookies on your browser to collect information related to your device's preferences. The device offers cookies to personalize your experience with targeted ads.
The ads and personalized content include things like different video recommendations.
nonetheless, It performs well while running programs like adobe premiere pro and running a game in the background.
In this review unit, we are focusing on one of the robust gaming laptops, "Razer blade pro 17". The name speaks for itself.
Introduction Razer Blade Pro 17
Razer blade pro 17 is a monstrous gaming laptop that can please anyone with its high performance.
It has an intel core i7 10875h processor and Nvidia GeForce RTX 3080 ti graphics, both of which are the essential components of a good gaming laptop.
The lovers of Razer blade pro 17 have flooded the internet with good in-depth reviews of this device.
Now let's look deeper into this powerful device.
Razer Blade Pro 17 Specifications: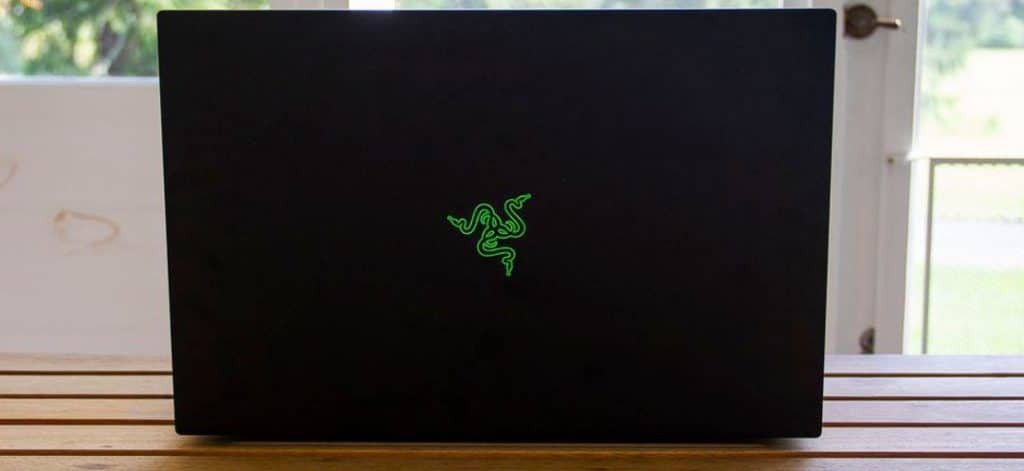 CPU
Intel Core i7-12800H (multi-core)
Memory
32GB DDR5/4800MHz
GPU
Nvidia GeForce RTX 3080 Ti
Display
17.3 QHD (2560×1440), non-touch, 240Hz refresh rate, G-Sync, 100% color accuracy
Storage
1TB PCle Gen4 NVMe solid state drive
Ports
3 x USB 3.2 Gen 2 Type-A, USB-C 3.2 Gen 2 (15W power delivery), 2 x Thunderbolt 4 USB-C Ethernet port, HDMI 2.1, SD card reader, headphone jack, power button, USB a ports, USB c port, sd card reader, sd card slot
Networking
wi-fi 6E 802.11ax, Bluetooth 5.2
Dimensions
0.78 x 10.24 x 15.55 inches7 mm (with propellers)
178×232×127 mm (without propellers)
Sound quality
laser cut speaker grilles, spatial audio
Weight
6.06 lbs.

Color
Black
Battery capacity
82WHr
Price
$3,999.99
Razer Blade Pro 17 Specifications
Razer Blade Pro 17 Pros and Cons
Razer Blade Pro 17: Features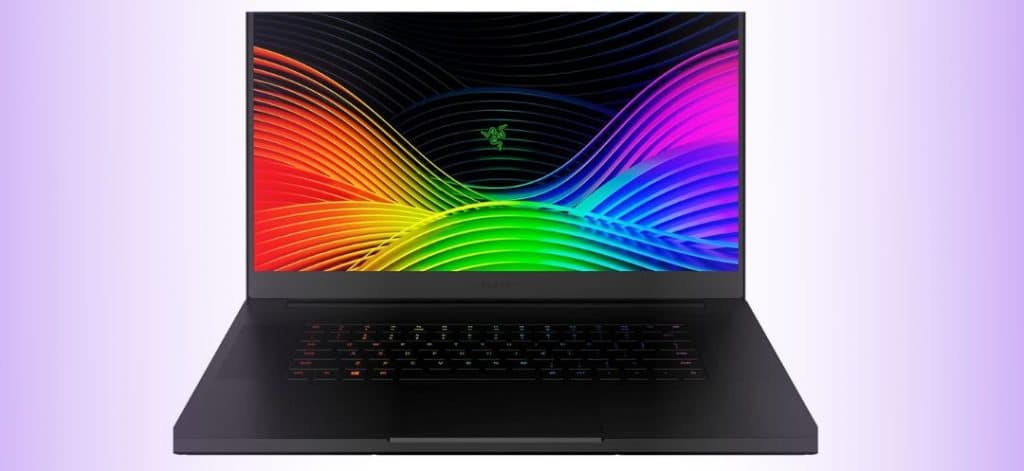 I) Design and Display
Why would you choose another one when you have a good-looking laptop in front of you? The Razer blade pro 17 has an aluminum chassis, making it an aesthetic laptop.
Razer blade 17 is a lovely black laptop made of aluminum metal and plastic. It has a don green razer logo over the display lid, which is the center of users' attention.
The solidity of the razer blade pro 17 shows that this laptop will last longer definitely for an extended period.
Older blade models have relatively small screen sizes, but the Razer blade pro 17 comes with a 17.3 inches large display that is perfect for gaming. The screen looks excellent despite its large size.
The screen gives a maximum refresh rate of 240Hz. The Razer blade has a sharp and bright panel for the game to look stunning. There's also 100% of the DCI-P3 color space.
It is worth noting that the razer blade 17 has a bigger screen than its previous models. Razer blade pro 17 has all the excellent display components that a gamer needs.
ii) Keyboard and Trackpad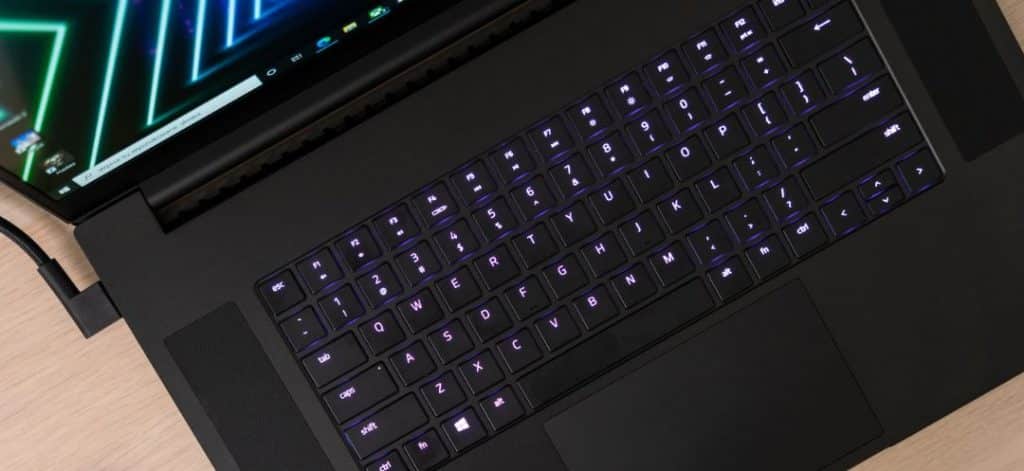 Razer Blade 17 offers a super sturdy and soft keyboard.
It has speakers on either side. Moreover, the keys are pretty soft and responsive. The only thing this keyboard lacks is number keys selection. The keyboard is a bit small for this large-sized body.
Razer Blade 17 has the fastest touchpad. It is perfectly centered below the keyboard to give an excellent effect to your gameplay.
+The fingers slide very quickly on this touchpad, ultimately giving an effortless smooth touching experience.
iii) Performance
Regarding its performance, the Razer blade pro 17 delivers a monstrously powerful performance in gaming and other tasks.
The undoubtedly impressive GPU Nvidia GeForce is the highlight of this big blade.
As we all know, Nvidia graphics cards are the strongest for gaming, and all thanks to Razer for providing us with this laptop.
With these powerful graphics, razer blade 17 goes up to 165W with a boost clock of 165W.
Razer Blade 17 contains an excellent cooling system. You can easily adjust fan speeds by the default balance mode.
Besides, noise is not a problem for Razer blade 17 because it doesn't produce a lot of fan noise.
The productivity tests of the razer blade pro 17 are nothing but impressive.
The Razer blade ran at an average of 72fps with red dead redemption with ultra settings. It set frame rates high as 53fps in the metro exodus benchmark.
It further got an average of 233fps on the low preset, which hardcore gamers often use. In the tomb raider benchmark, the Razer blade got the highest score of 158fps. Isn't it amazing? It is.
iv) Storage
Razer Blade 17 pro carries a sizeable 32Gb ram and giant storage of 1024GB.
If you want to download heavy games and store stuck-free heavy files, then the Razer blade 17 pro is the best choice.
The razer blade's storage component will make you drool over this sturdy device.
v) Ports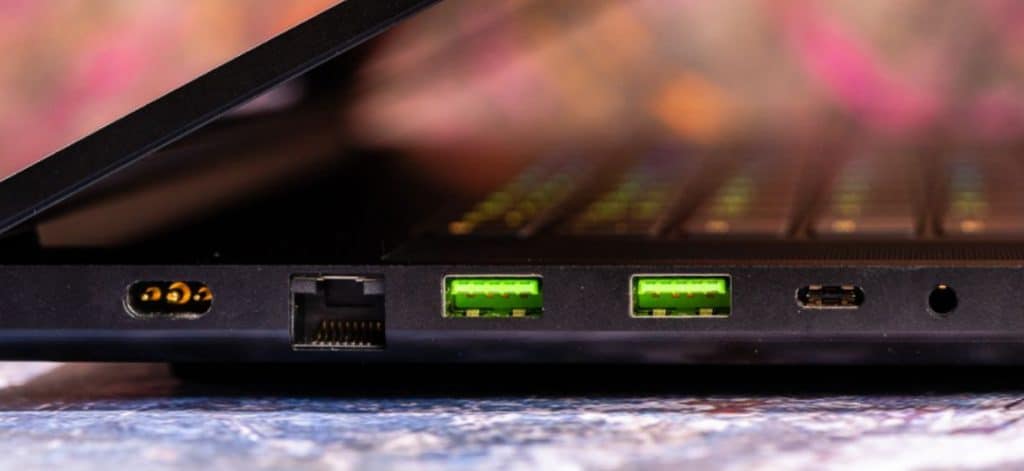 Razer blade pro 17 has a generous selection of ports in this model, and every gamer would be happy to have these in a laptop.
In this laptop, you get one ethernet port, USB A port, two thunderbolts, 4 USB c ports, three USB ports supporting USB 3.2 gen 2, and one USB c port supporting USB 3.2 gen 2.
It shows that the razer blade 17 carries an impressive collection of ports to handle everything. Amazing!
Battery life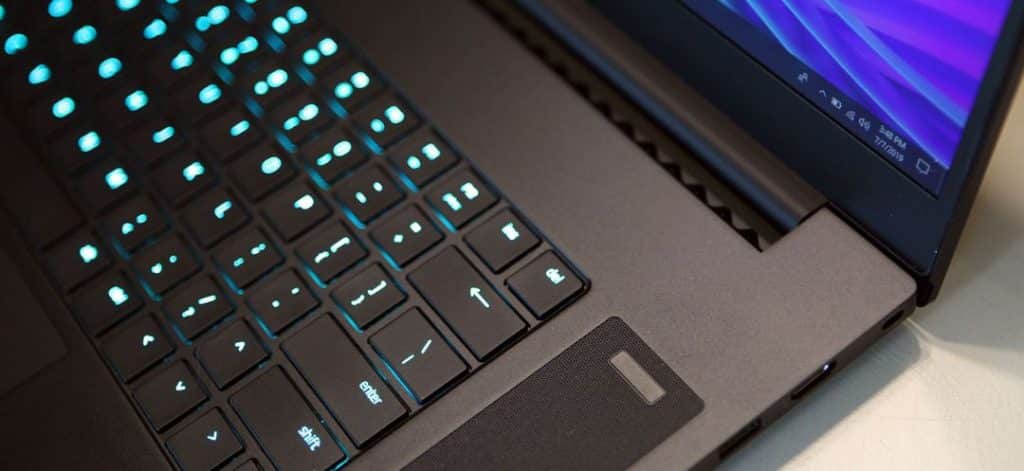 Razer Blade 17 offers an average battery life. It packs an 80Wh battery which is not suitable for a gaming laptop.
You have to plug in the charger all the time for long-term use. In battery test, Razer blade delivered 5 hours battery time with wi-fi.
Price and Availability
Razer blade pro 17 is available at the price of $3,999.99. However, the availability and price of razer blade 17 vary depending upon the sellers.
Verdict
Razer blade 17 is a powerful, impeccably designed gaming laptop with a 12th Gen intel core processor and fantastic Nvidia GPU.
It performs amazingly in games and other tasks as well. The battery life of the razer blade 17 is average. But razer blade 17 is a premium laptop with solid attributes like CPU, GPU, and a large HD display.
Although the price is a bit high, laptops with unique components always cost high. If you need a laptop that can perform gaming at high levels, then the Razer blade 17 is the best fit.
Is Razer Blade Pro 17 worth it?
Is Razer Blade Pro 17 worth it? That really depends on what you need and want in a laptop.
But the right answer is yes. Razer Blade Pro 17 is indeed worth it
The Razer Blade Pro 17 is one of the thinnest and lightest gaming laptops on the market, and it's packed with top-of-the-line hardware.
It has a beautiful 4K display, and the keyboard and touchpad are both excellent.
But all of that comes at a price: the Razer Blade Pro 17 is one of the most expensive gaming laptops you can buy, and it's not particularly portable.
So if you're looking for a powerful gaming laptop that you can take with you on the go, the Razer Blade Pro 17 may not be the best option.
But if you need a desktop replacement that's capable of running the latest games at Ultra settings, the Razer Blade Pro 17 is definitely worth considering.
How much memory and storage does the Razer blade pro 17 has?
You will be amazed that the Razer blade 17 has an impressive 32Gb ram and 1024Gb storage.
How much is Razer blade pro 17?
Razer blade 17 is an expensive gaming laptop available at the price of $3999.99.