Asus is one of the top brands for producing the best gaming laptops, and when it comes to features and quality that are hard to beat.
Asus ZenBook 13 Oled is getting famous daily using the OLED display technology, which takes Asus ZenBook to a new height in the industry.
Asus ZenBook S 13 is known for its slim, sleek, lightweight body with amazing battery life. 
Asus Zenbook 13 Oled review
Background
Asus is manufacturing dignified and powerful laptops with an Oled display screen which provides a better display than other laptops.
Asus ZenBook S 13 uses an AMD Ryzen processor, which has the lightning capability to perform multifunctioning on the display screen of 13.3 inches with good battery life. 
Asus is equipped with a backlit keyboard with the double functionality trackpad with lighted LED numeric keypad long function keys with excellent 16 GB of RAM and AMD sharp graphics along with maximum brightness with realistic visual effects. 
Asus ZenBook S 13 Oled includes more amazing specs, including a high definition 720 webcam IR camera, fingerprint reader, and unique optimum typing angle to assist you in machine learning with excellent sound quality.
Asus Zenbook 13 Oled Specifications: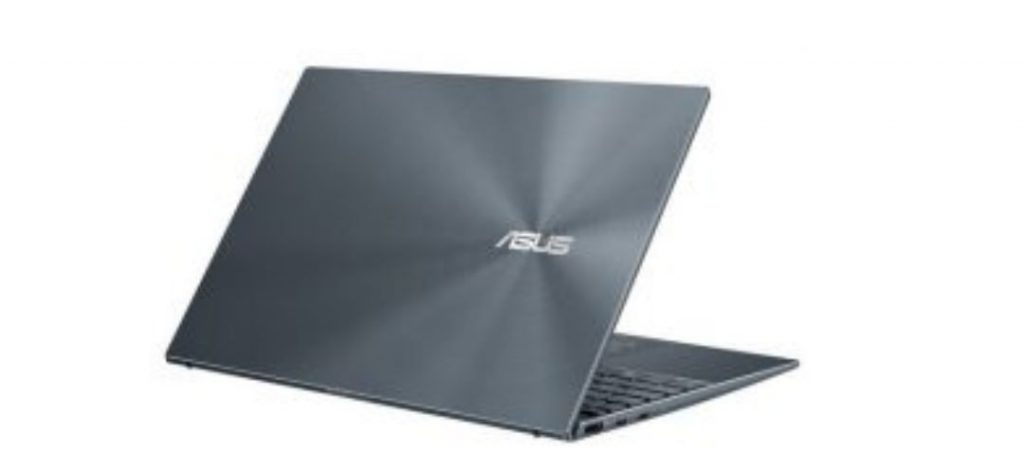 | | |
| --- | --- |
| Processor | AMD Ryzen |
| Memory | 8 GB which can be upgraded to 16 GB |
| Graphics/GPU | AMD Radeon |
| Display | 13.3-inch, FHD (1920 x 1080) OLED, Pantone validated glossy display |
| Storage | 512 GB upgradeable to 1 TB |
| Webcam | 720 High Definition with IR function |
| Connectivity | Intel Wi-Fi 6, Bluetooth 5.0,1x USB 3.2 Gen 1 Type-A, 2x USB 3.2 Gen 2 Type-C support display / power delivery, Micro SD card reader |
| Networking | Wi-Fi 6(802.11ax) (Dual band) 2*2 + Bluetooth 5 |
| Biometrics | Fingerprint reader |
| Battery capacity | 67WHrs, 4S1P, 4-cell Li-ion |
| Weight | 1.14 kgs |
Asus Zenbook 13 Oled Specifications
Asus Zenbook 13 Oled Pros and Cons
Asus Zenbook 13 Oled Review: Features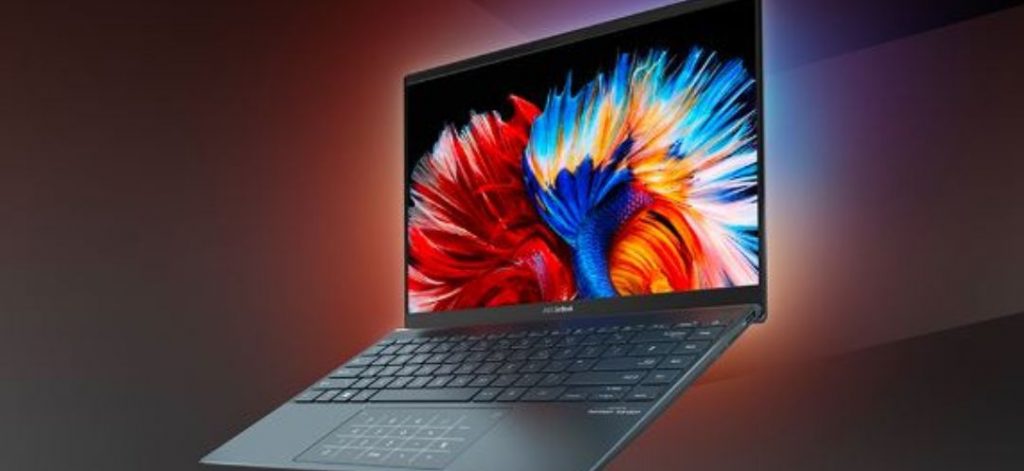 I) Design & Display
Asus ZenBook precision engineered ergo lift hinge design allows this business laptop to do 360 movements which helps the user with efficient working and isolates unwanted noise.
The elegant power button enhances the beauty of the Asus ZenBook s 13.
The ZenBook 13 Oled screen with excellent display quality in this price range is fantastic.
Asus ZenBook has a built-in speaker, which makes the client enjoy more while having game time.
The OLED display makes the client focus on the task; additionally, with this Oled display feature, the client's eyes will not be affected much as in the case of other laptops. 
The old display provides pure colors on the screen, and its new technology protects our eyes from harmful blue light.
Asus ZenBook S 13 magnesium alloy super slim body is an adorable feature with pine grey hue on it and passed several testing, which makes this more reliable in extreme temperatures. 
Integrated graphics are so much essential for the client who use the laptop for a long time in a day as this assist to make focusing on the task for better functionality.
Asus ZenBook S 13 focus a lot more on display with Oled panels, which don't harm laptop user as most laptops do even using at peak brightness. 
Asus ZenBook 13 Oled focus laptop display enhanced realism through Oled technology.
Asus ZenBook 13 Oled inches display screen at different brightness levels promises the user to focus on gaming and also has the built-in human speech feature.
Asus ZenBook 13 Oled display provides the best-integrated graphics at this affordable price in the laptop industry. 
ii) Sleek & Slim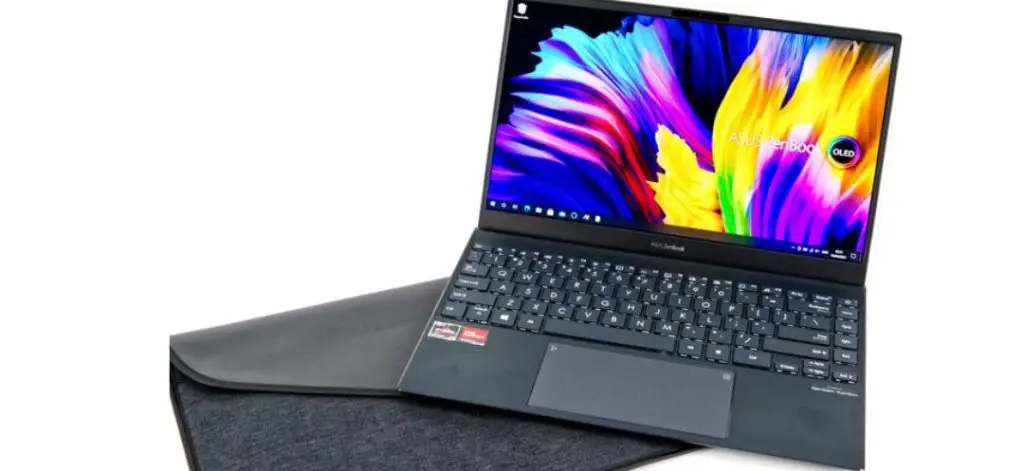 Asus ZenBook 13 Oled is very slim and thin in size, and this feature makes this laptop more beautiful and becomes the reason for Asus ZenBook 13 Oled to sell like hot cakes in the market.
The laptop design is gorgeous and makes you remote work anywhere.
iii) Keyboard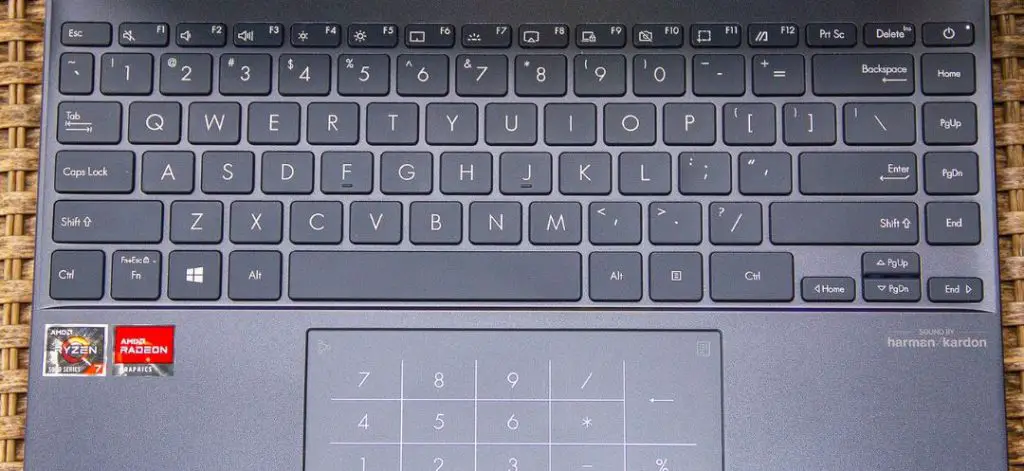 Asus keyboard has ample space for all the keys and a big Asus number pad which helps a lot in calculations and a touchpad that becomes a calculator with efficient operating speed laptop slightly better than Lenovo yoga.
The keys on the keyboard are very comfortable for gaming, calculations, drafting, content creation, and word processing.
Not forget about the touchpad. It's an excellent addition to ZenBook 13 Oled. Asus Number pad is optional in this laptop, which can be avail if needed.
The keyboard is designed with unique, exceptional backlit features, which proves as an addition to the beauty of Asus ZenBook 13.
The keyboard comprises many hotkeys, which give the client a boost to perform better.
iv) Performance
Asus ZenBook 13 integrated graphics assist the gaming persons with a new specialized experience that they never had just because of some of the certain features available in this model. 
The noise canceling technology introduced for improvement in this model whose importance can't be neglected while using Asus ZenBook 13 Oled in machine learning, gaming, or editing.
Related Articles:
Asus ensure unwanted noise, which helps in focusing the tasks.
Our review unit makes an opinion based on testing that ZenBook S 13 Oled as an exceptional laptop with power delivery .
And making the same test on other laptop get output that its integrated graphics and battery time make Asus ZenBook more worthy and fruitful for the client who is in the profession of video editing.
v) Webcam, Microphone & Biometrics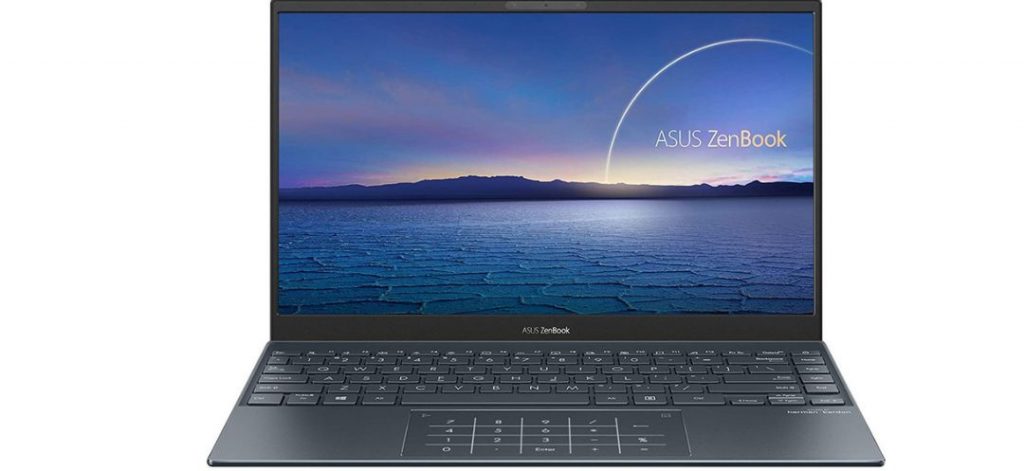 ZenBook S 13 Oled has a webcam with IR camera sensing technology with 720 resolution.
It is not bad and is considered one of the qualifying devices.
Asus ZenBook 13 is a multi-core laptop, and support includes the audio headphone jack, which is exceptional.
Asus ZenBook 13 Oled screen provides the client best webcam display service with a brilliant built high-quality microphone, which is a plus point.
When we reviewed the same test for the microphone on Lenovo yoga, our review unit concluded that Asus ZenBook is a better laptop.
Connectivity
ZenBook S 13 Oled makes you shocked by exciting USB-C ports in which you insert an audio jack and two Thunderbolt USB-C ports, which is a key to transmitting data in seconds.
Asus Laptops also support HDMI to connect through USB C for a fantastic gaming experience.
Asus ZenBook Oled screen also ensures connectivity with external monitors for screen sharing by USB ports. Moreover, Asus have McAfee and MyASUS as built-in applications on the laptop. 
The microSD card reader is installed on Asus ZenBook 13 for the client to make it more connectable all the time.
Asus ZenBook S 13 comprises a USB Type-A port for speedy connection between the laptop and external storage devices to transmit a large amount of data.
USB C is today's most used port for connecting power banks or mobile phones.
It additionally helps a lot more in connecting the HDMI through USB C for video output on an external screen for different functions of a laptop. 
Asus ZenBook 13 Oled also provides the USB port on the left edge, enhancing connectivity.
Asus ZenBook 13 Oled display fully complement the connectivity of Wi-Fi along with brightness with intel processor with fantastic quality of display.
Battery life
Asus laptop provides an excellent battery life with mixed usage up to 13 to 14 hours. Battery life goes up when using it for web surfing.
Battery life can be enhanced when brightness is used efficiently. ZenBook S 13 Oled has an impressive fast charge feature, which makes this laptop more worthy. 
Battery consumption can also be accessed by the Myasus app, which describes the health of my battery.
Using the peak brightness also weakens your battery. If you love to watch movies, then battery matters a lot, and Asus, in that case, is the best choice.
Light use of Asus ZenBook provides the client with good battery time.
Price & Availability
The price for ZenBook S 13 Oled for power delivery of performance, exceptional battery life, adorable connectivity, and high-quality Oled display starts from $800, which is feasible for almost every user to buy.
The Asus fulfills all the expectations that a user needs for video editing or gaming with the super slim thin body in Pine Grey & Lilac Mist colors.
The price may vary for other countries from the USA. 
Our review unit also makes a comparison with other devices regarding price and specs and get Asus ZenBook S 13, an ideal laptop with impressive specifications & features, including different USB type.
Asus ZenBook S 13 is a complete gadget with all the requirements, whether using the laptop for the office or if you are a student on a low budget.
Asus ZenBook S 13 performance is excellent in every profession, which is fair enough. 
Verdict
Asus ZenBook S 13 is an intelligent laptop with multi-core performance, a high-speed processor, and the best quality display screen.
With the feature of a microphone & built the maximum volume of speakers and various USB types with an audio jack with exceptional battery, the best Wi-Fi connectivity and with ergo lift hinge, with the fantastic keyboard build quality.
Asus ZenBook S 13 these days is also used for heavy games such as tomb raider, making this laptop the most popular.
Average Battery life, fewer USB ports, and a sticky touchpad are the only bad part of Asus ZenBook 13.
But overall, Asus ZenBook is the most OK laptop with these specs at an affordable price.
FAQ
Is Asus ZenBook 13 an OLED?
Lightweight and robust, this ZenBook S 13 has a thinner and lighter design and is lighter in weight than all the 13.3 inches notebooks in its class.
It has a 1-kilogram chassis made from robust magnesium alloy. It is an ultra-portable laptop designed for optimum productivity and creative use.
Does Asus ZenBook 13 have OLED touchscreen?
The Asus ZenBook 13 UX325 display features OLED display technology which makes ZenBook 13 a popular device.
The colorful panel is surrounded by thin bezels, allowing an 80 % screen-to-body ratio.
Is ZenBook an OLED?
The ZenBook SL12 OLED indeed has bright ports.
There might be 3 USB Type-C ports (2 on the right and another on the left) and a 3.5mm headphone connector (on the right side), but there is no USB.
Related Articles