Laptops have made it simpler to connect with people worldwide.
It has also facilitated people a lot in flexibility in not only working but also in gaming.
We have seen desktop computers primarily used for working, but gaming laptops' popularity is undeniable.
When you buy a gaming computer, you need to set up headphones, CPU, monitor, mouse, and keyboard together. But in the case of a gaming laptop, you get all these things in a single device.
Laptops are somehow taking over desktop gaming because of their advanced features.
Nowadays, people are more into buying the best gaming laptops than gaming PC.
This demand for gaming laptops has made the companies introduce more innovative devices.
A gaming laptop offers good looks and intelligent performance that attracts users. Its best advantage is that it includes everything you need to start the game right at the time.
As a matter of fact, Asus is one of the best laptop brands. In addition, this company is prominent in making the best gaming laptops.
For the best experience, we would like you to refer to our buyer's guide and round-up post on the best Asus gaming Laptops
One of its best production is Asus rog Strix scar 15, which stands out among the best gaming laptops.
This gorilla device offers you an excellent intel core i9 12900h processor, which is enough to blow your mind away with its high gaming performance.
The best gaming laptop is known for its graphics and Asus rog Strix scar 15 comes with intel iris Nvidia GeForce RTX 3070 ti graphics giving you an intense gaming experience.
Moreover, it provides you with more than good battery life with its beefy 90WH battery.
Gaming laptops feel happy if they offer robust performance mode with impressive processors like intel core i9 12900h with powerful GPU.
Asus rog Strix scar 15 is always ready to handle even the most significant projects with grace.
Let's take a deep look at this mind-blowing gaming device.
Background of ASUS ROG STRIX SCAR 15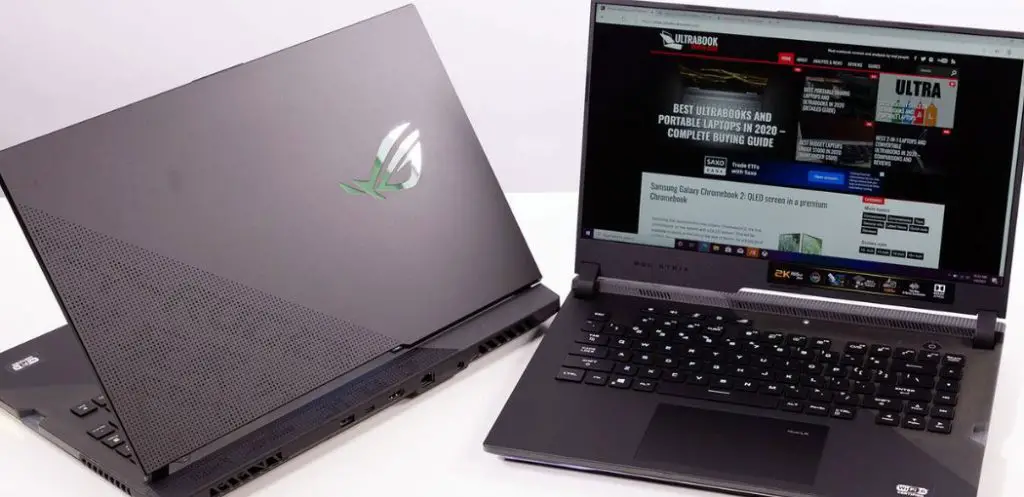 Asus is a famous multinational computer hardware company that aims to create intelligent devices for a more thoughtful life.
Asus is best known for making high-quality computers, gaming laptops, motherboards, and graphic cards.
Asus is unbeatable in the technology world because of its high-quality productions.
It also stands No. 1 in the world for its gaming devices and motherboard, which is the solid reason to buy Asus rog Strix scar 15.
Asus rog Strix scar 15 Review:
Editors Rating: 4.8/5.0
Rog Strix scar 15 Review:
Asus rog Strix scar 15 is a graceful gaming laptop with an intel core i9 12900h processor and Nvidia GeForce RTX 3070 ti GPU.
The processor gives a power delivery, and graphics boost performance to a high level.
The rog Strix scar 15 stands out because of many other distinguished elements provided with a high-performance mode.
Scar handles the high demands of modern multiplayer games, ultimately providing you with the best gaming experience. Alongside this, it gives a long-lasting battery life.
It is a high-end gaming laptop that is kind enough to give you 32GB ram.
Asus rog Strix scar 15 offers you DDR5 memory and PCle Gen 4 SSD, which is a substantial generational performance jump.
If you are searching for the best recommendation for the best gaming laptop, then you hit the right place.
The Asus rog Strix scar 15 with intel core i9 has a speedy 240Hz 1440p display that is nothing but eye-pleasing. Moreover, the keyboard is smooth in working.
Now let's discuss the specifications and features of Asus rog Strix scar 15 in detail.
Asus rog Strix scar 15 Specs:
Now we will discuss its specifications and features in detail. Let's dive straight into it.
| | |
| --- | --- |
| CPU | Intel Core i9 12900H 6P, 8E cores |
| Memory | 32GB DDR5-480 |
| Graphics | Nvidia RTX 3070 Ti |
| Display | 15.6-inch LCD, 16:9, 1440p IPS panel with 240Hz refresh |
| Storage | 1TB PCIe 4.0 SSD |
| Connectivity | Wi-Fi 6E, 2.5G Ethernet |
| Size and weight | 13.94(W) x 10.2(D) x 1.07(H) inches |
| Battery | 90Wh |
| Ports | Two USB 3.2 Gen 1 Type A, One USB type c port, one Thunderbolt 4 (with power delivery), full HDMI 2.1, Ethernet, headset jack, DC-in |
Asus rog Strix scar 15 Specs
Pros and Cons of Asus rog Strix scar 15
Asus rog Strix scar 15 Review: Features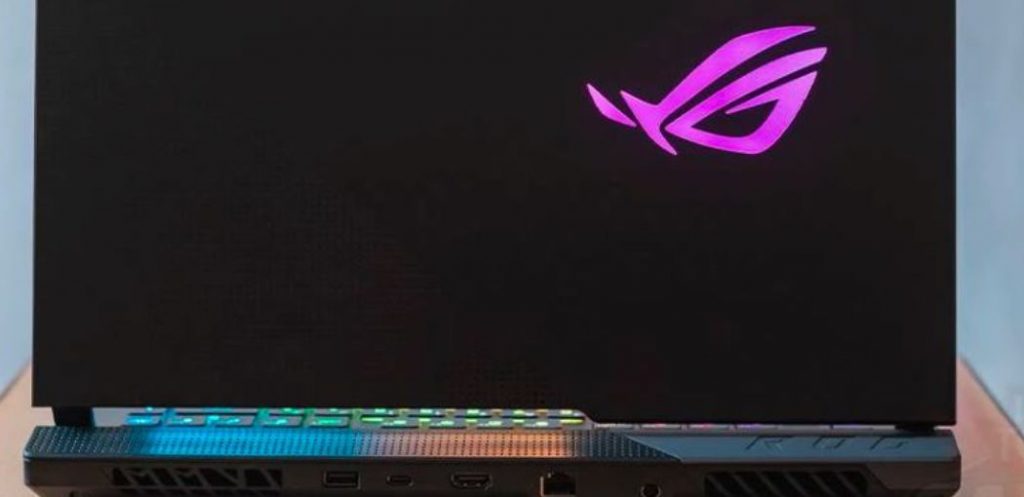 I) Design and Display
Asus rog Strix scar is a bold gaming laptop with a sleek and sturdy body.
The asymmetrical livery and RGB lighting are prominent figures. Strix scar 15 RGB glowing logo and translucent keyboard deck is the centre of attention for most professional Gamers.
The chassis of rog Strix scar is of stiff and sturdy plastic with a mix of grey colours.
Also, there's funky translucent plastic all around the keyboard. Rog Strix scar has full per crucial RGB lighting in every key.
There's also an RGB bar of lighting running across the front, which makes it look attractive at first glance.
Asus rog Strix scar is counted among the heaviest and biggest 15″ devices for gaming.
Some of its body parts look slim, but it is not a thin, light gaming laptop overall.
Besides, rog Strix scar 15 utilizes a liquid metal thermal compound on the CPU for truly silent cooling.
GPU mux switch lets the GPU communicate directly with the display.
Its impression is just mind-blowing.
ii) Display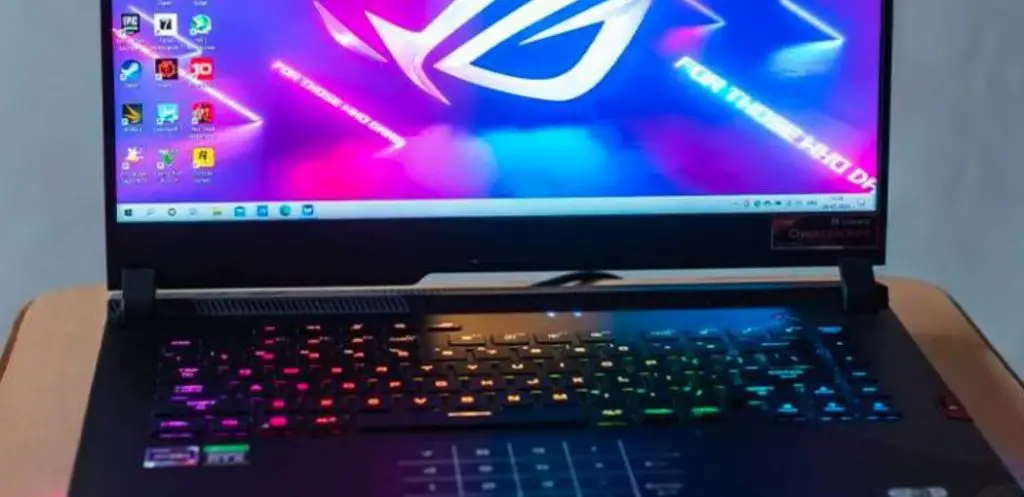 The IPS panel of this great laptop offers incredible screen colours to provide fantastic stellar gaming.
Speaking of the display, it comes with a 1440p IPS panel which is decent enough to deliver crystal clear visuals with Dolby vision hdr.
It further provides space for various productivity purposes. The panel's refresh rate is fast because of the Nvidia GeForce RTX 3070 ti graphics.
If games are your thing, then you must keep your hands on Rog Strix scar 15.
iii) Keyboard and Trackpad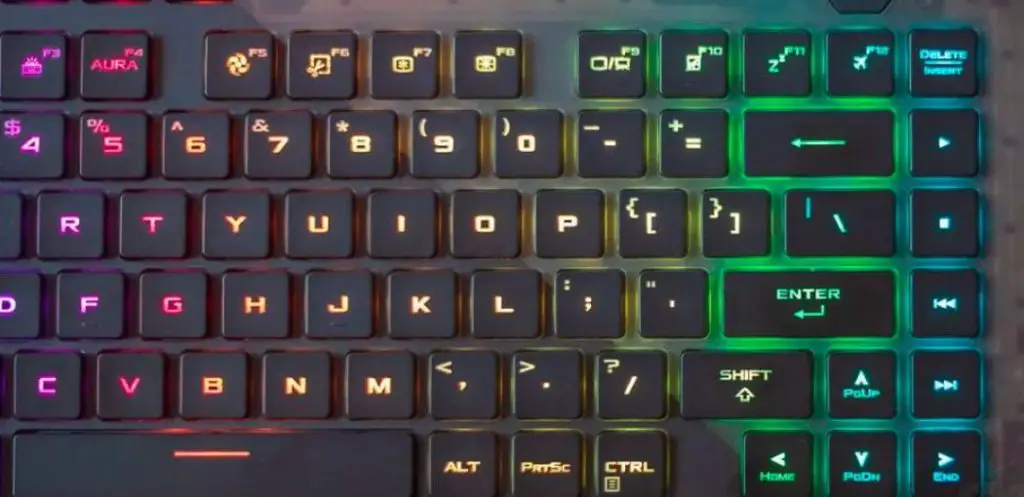 Rog Strix scar 15 is designed very generously with per-key RGB lighting.
The keys of the board give magical movement with every touch.
The dedicated media buttons on the panel manage the laptop very efficiently despite omitting the ten key.
Its particular buttons allow fan speed modes, volume control, and microphone mute.
The translucent keyboard deck design of rog Strix is highly distinctive and appreciable. But you can adjust the lighting effects according to your preference.
The touchpad of rog Strix scar 15 is wide, extensive and perfectly made for a high-quality experience.
It is comfortable to use without a mouse even.
For the best experience with your keyboard and to extend its life check out the guides below;
Related Guides on Keyboards
iv) Performance
Asus rog Strix scar 15 is a quirky laptop built with intel core i9 12900h processors, six performance cores, and eight efficiency cores to give strong gaming performance.
It further offers powerful Nvidia Geforce RTX 3070 ti graphics to maintain higher boost frequencies.
The ultimate play boosts up the gaming experience very efficiently.
The lighting in rog Strix allows much flexibility via Aura sync and includes game-specific lighting layouts to increase performance.
It is a classy gaming laptop that routes frames from GPU through CPU's integrated graphics.
v) Storage:
Its 32GB memory and 1TB PCle SSD storage are enough for the content creators to perform their tasks.
This fast memory makes the laptop feel snappy, from heavy gaming to light web browsing. You can enjoy a huge generational performance jump with its storage capacity.
vi) Ports: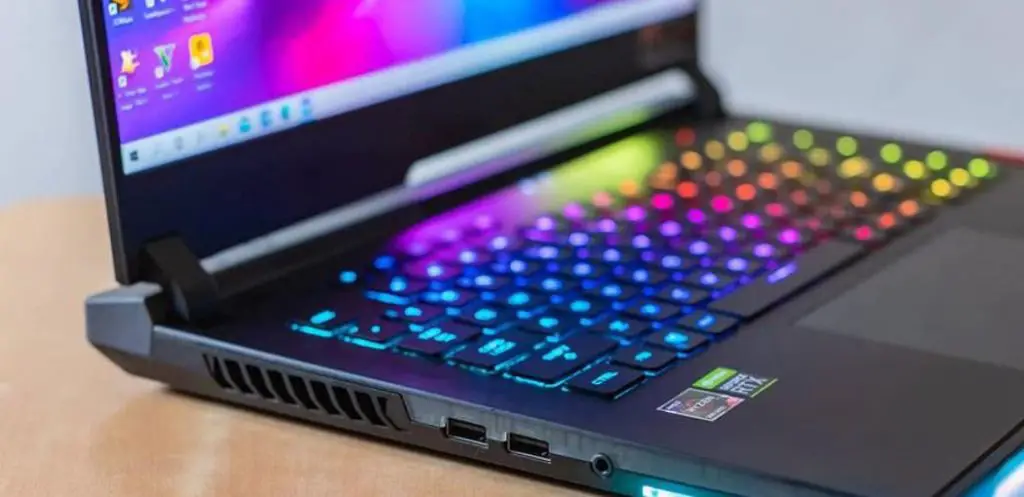 Rog Strix scar 15 comes with a pair of USB c ports.
The one port allows thunderbolt four functions with 40Gbps speed for faster data transfer.
Besides this, the scar has two USB ports, an ethernet, a headphone jack, four smart amp speakers, and HDMI.
The speakers include two downward-firing woofers to create a clear sound. Its connectivity allows a stable internet connection with wi-fi 6E standards.
vii) Cooling System:
Rog Strix scar 15 utilizes four dedicated fan outlets to transfer heat out of the system efficiently.
Its intelligent cooling system allows critical components like CPU and GPU to maintain high performance for a more extended period.
The fan gives minimal noise in turbo mode. The 84-blade arc flow fans and liquid metal conductor extreme supports the RGB lighting zone.
Alongside this, the two-way ai noise cancellation processes can easily filter errant background noises.
The fan blades are made in shape to maximize airflow from the device.
The cooling system keeps the components cooler than traditional thermal pastes. It further allows the dust to come out through shorter anti-dust tunnels.
ASUS ROG STRIX SCAR 15 Review: Battery Life
As scar is a powerful and heavy gaming laptop, it also comes with a big battery.
But despite the big battery, it gives an average battery life. Rog Strix scar 15 can charge from 0 to 50 in 30 minutes.
It can support more than 10 hours of video playback. Overall, rog Strix scar 15 gives a mediocre battery performance.
For improved battery life, check out our guide on How to increase the battery life of a laptop.
Price and availability of ASUS ROG STRIX SCAR 15
Rog Strix scar 15 with intel core i9 12900h and Nvidia GeForce RTX 3070 ti graphics is available at $2,499.99.
The prices vary from country to country depending upon the particular sellers.
The addition of the game catalogue varies by region and device.
Note: Products and brand names mentioned are the trademarks of their respective companies.
Verdict
Rog Strix scar 15 is a decent laptop with an intel core i9 12900h and strong Nvidia Geforce RTX 3070, ultimately giving you a superb gaming experience. It comes with a fantastic IPS panel having bright colours.
Moreover, it has solid speakers and updated arc flow fans for excessive heat emission. The rog boosts up to 1460 MHz at 150W with dynamic boost, and the mux switch helps increase the performance. It only lacks a webcam that you can ignore over other distinctive features.
Overall, rog Strix scar 15 is a charming aesthetic device that is the best choice if you are conscious about gaming. It certainly meets all the standards of the best gaming laptop.
ASUS ROG STRIX SCAR 15: FAQS
Is the Asus rog Strix scar 15 worth it?

The Asus rog Strix scar 15 is a high-end gaming laptop that comes with a price tag to match.

It's packed full of top-of-the-line hardware, including an Intel Core i7 processor, 16GB of RAM, and an Nvidia GeForce RTX 3070 ti graphics card.

But all that power comes at a cost, and the Strix scar 15 is one of the most expensive gaming laptops on the market.

So, is it worth the price?

In short, yes. The Strix Scar 15 is an excellent gaming laptop, and its performance speaks for itself.

If you're looking for a powerful machine that can handle the latest games with ease, then this is the laptop for you.

However, if you're on a budget, there are cheaper options available that will still provide good gaming performance.

For example gaming laptops under 500

Ultimately, it comes down to how much you're willing to spend on your gaming setup.

If money is no object, then the Asus rog Strix scar 15 is definitely worth considering.

Is Rog Strix scar 15 best for gaming?

There's no easy answer when it comes to deciding whether or not the Rog Strix scar 15 is the best gaming laptop on the market.

It all comes down to personal preference and what you're looking for in a laptop.

For some people, the Rog Strix scar 15's large screen size and powerful specs will be immensely appealing.

Others might find its overall design to be too flashy and prefer a more understated look.

Ultimately, it's up to you to decide whether or not the Rog Strix scar 15 is the best gaming laptop for your needs.

However, there's no doubt that it's a high-quality piece of machinery that any gamer would be happy to have in their arsenal.

So for us, the answer is yes, indeed Is Rog Strix scar 15 is one of the best gaming laptops

Does ASUS scar 15 have a webcam?

It has no Webcam on the Strix Scar 15 though, it contains quite a capable camera, and it is capable of capturing 1080 x 60 fps video.