Your laptop's heatsink is one of the most important components in keeping your computer running cool.
If it gets dirty or clogged with dust and hair, your computer can overheat, become so slow and potentially damage the internal components.
In this guide, we will walk you through the process of cleaning your laptop's heatsink using a few simple tools and some common household items.
After all, learning how to clean a laptop is an important skill for any computer user. Let's get started.
First and foremost a laptop heatsink is a component in your computer that helps keep it cool. It is usually a metal object that sits on top of the processor and helps dissipate the heat.
So it must be cleaned and this guide on how to clean laptop heatsink will do the teaching for you.
Step one: Gather your supplies.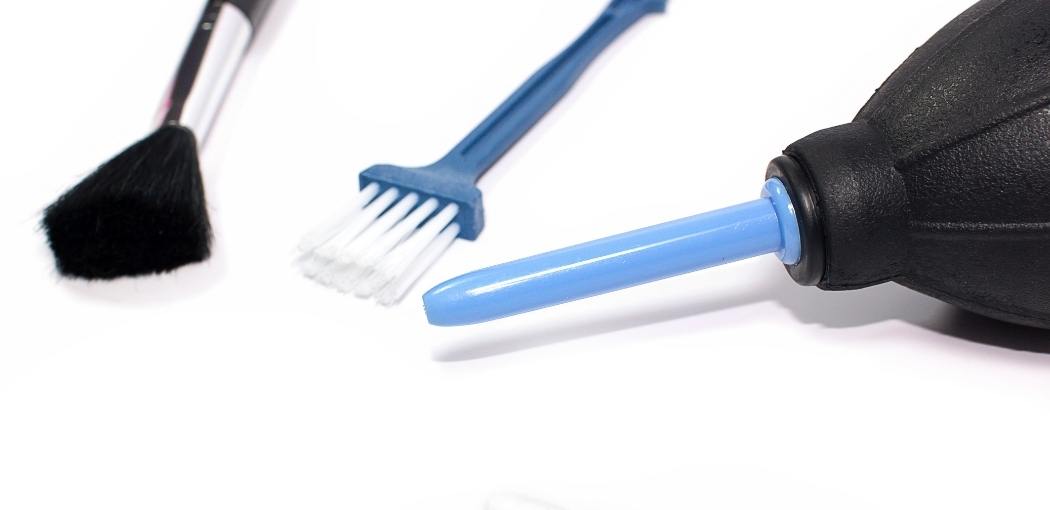 These will be some basic heat sink cleaning tools You will need a can of compressed air, a Phillips head screwdriver, and some cotton swabs.
The supplies should not worry you so much if you're computer savvy, and if not it is best to leave the cleaning of your laptop heatsink to those who have the know-how.
Although as far as this guide is concerned I believe you will be able to clean your PC heatsink.
Step two: Switch off the laptop & remove the screw
Now at this point, you will need to remove all the power cables and shut down your laptop.
Next, you will need to unscrew the back cover of your computer.
This will give you access to the heatsink and fan. Once you have removed the screws, gently lift off the back cover.
Step three: Use compressed air to clean out all dust & dirt from the heatsink
Now that you have access to the heatsink, take your can of compressed air and give it a good blast.
You want to make sure that you get all the dust and dirt out of the fins. If you see any chunks of dirt or hair, use a cotton swab to remove them.
I would want you to do this before disabling the fan and heat sink as it will make the process a bit more easy ask you would have to blow all the dusk on top of your heatsink and laptop fan.
Step four: Remove the fan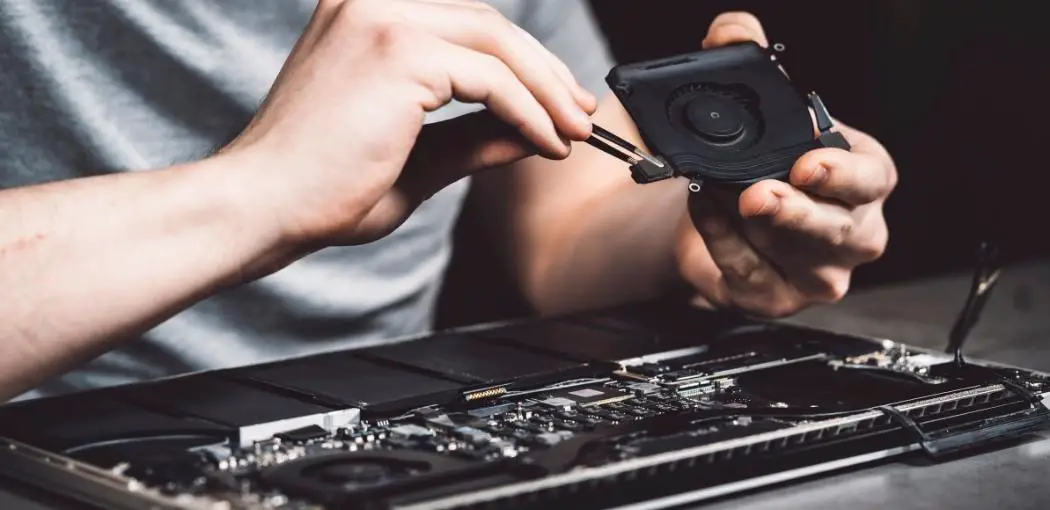 The next step is to remove the fan. There are usually two screws holding the fan in place. Unscrew them and carefully lift the fan off of the heatsink.
Use compressed air and give it a good blast once again. Make sure to clean the fan blades and check for any dirt or hair. If you see any, use a cotton swab to remove them.
Related topic: How to Clean a Laptop Fan: 2022 Complete Guide
Step five: Use cotton swabs to clean the heatsink fins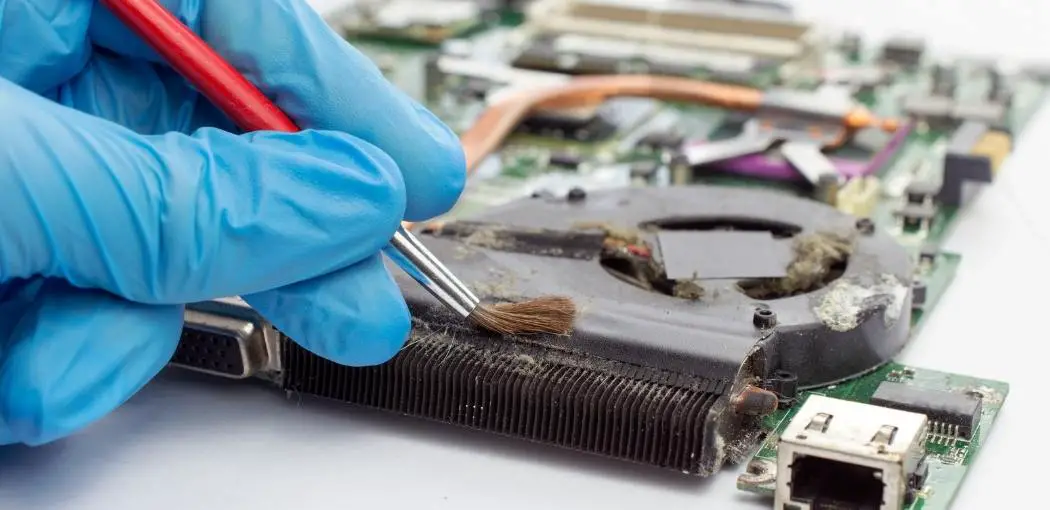 Now that the fan is off, you can access the heatsink fins more easily. Use a cotton swab to clean any dirt or dust out of the fins.
You can also use compressed air to give it a good blast. Just be careful not to bend the fins.
Step six: Apply the thermal paste below the heatsink
The final step is to apply thermal paste to the heatsink. This will help improve heat dissipation and keep your computer running cooler.
There are many different types of thermal paste, so make sure you get the right one for your laptop. You can usually find it at your local computer store or online.
Follow the instructions on the package to apply the thermal paste.
Once you have applied it, replace the fan and screw it back in place. Replace the cover of your laptop and screw it in place.
Turn on your laptop and check for any overheating issues, if you find any issues refer to our guide on How To Fix An Overheating Laptop.
If everything is working properly, congratulations! You have successfully cleaned your laptop's heatsink.
Conclusion on How to Clean a Laptop Heatsink
Cleaning the laptop heatsink is an important part of regular computer maintenance.
Not only does it help keep your computer running cooler, but it can also improve performance and extend the life of your hardware.
In this article, we've shown you how to clean a laptop heatsink using a few simple steps.
We hope you found this information helpful and that it will help you keep your computer running in top condition.
Ranklaptop has also covered the topic very well free to read to gain something.
In case you have a question or want to add something to this guide, please leave a comment below and we would be proud to answer in the shortest time possible.
Feel free to share this guide on how to clean heat sink computer