The top laptop has become the demand for every individual nowadays.
Laptops are one of the most commonly used devices that make our work more manageable no matter to which profession we belong.
Laptops are essential in earning people to work from home, especially during COVID tenure.
Laptops are easier to carry because of their portability, which matters greatly when we compare a simple desktop PC to a laptop.
The laptop industry is growing by leaps and bounds and continuously introducing new models.
A laptop is a machine that benefits us in multiple ways and makes our daily routine easier by updating the technology of the laptop day by day with eye-catching features.
In this era, if you are confused about choosing a laptop with excellent features, you are in the right place and a few steps away from an exciting laptop.
We will now focus on Microsoft Surface Studio review with its brilliant features, which will also surely help you to find your Microsoft Surface Laptop Studio.
Microsoft Surface Laptop Studio Review
Editors Rating: 8.9/10
Surface Laptop Studio
It s a versatile computer that can be used for a variety of tasks. Its sleek design and powerful features make it ideal for students and professionals alike.
Background
We see a list of brands in the market competing with each other with their excellent laptops.
Microsoft is also a big player in the race and left behind many renowned manufacturers in the international market.
With the improvement in technology, Microsoft is on the way to giving the user a fully equipped laptop with all the necessary tools and updated software, which are essential to compete with many other future brands.
It is not wrong to say that Microsoft Surface Laptop Studio is an option with a premium package that includes the exceptional four modes in one laptop that are tablet mode, stage mode, laptop mode & studio mode.
Not only this, Microsoft Surface Laptop Studio can defeat the market with its sparkling processor and the special display effects with NVIDIA graphics which make Microsoft Surface Laptop Studio worthier.
After reading our article, we are confident that you will surely remember the excellent Microsoft Surface Laptop with its unique features.
Including its unmatchable battery time and most amazing surface slim pen, and convince you to buy Microsoft Surface Laptop Studio.
Microsoft Surface Laptop Studio Specs
| | |
| --- | --- |
| Operating System | Windows 11 |
| Processor | Quad Core 11th Gen Intel Core i7-11370H |
| Processor speed | 3.3 GHz |
| Memory | 32 GB LPDDR |
| Storage | 1 TB SSD |
| Graphics | Nvidia GeForce RTX 3050 |
| Ports | two USB C ports with USB generation 4.0 / Thunderbolt 4, One headphone jack, one Surface Connect port |
| Display | 14.4 inches with 2400 x 1600 resolution |
| Weight | 1.8 Kgs |
| Network and Communication | Wi-Fi 6 802.11ax, Bluetooth 5.1 |
| Battery | 58Wh with 14 hours of battery backup |
| Price | starting price with the base model is $1499/ |
Specifications of Microsoft Surface Laptop Studio
Microsoft Surface Laptop Studio Specs: Pros & Cons
Microsoft Surface Laptop Studio Review: Features
I) Design and Display
Microsoft Surface Laptop Studio is designed keeping in mind the need of its user precisely and giving the user full liberty to use the laptop with all its exciting features.
Microsoft Surface Laptop Studio's boundary-pushing design lets the user work.
It performs various kinds of projects with the help of this laptop with many built-in features and software sold separately in the market.
Surface Laptop Studio design features cutting-edge AI features along with the surface slim pen option, which is excellent for the user while creating content, video editing, or photo editing.
Microsoft Surface Laptop Studio focuses on providing extra space for video & photo editing.
Microsoft Surface Laptop Studio can connect the monitors externally in various projects with a surface slim pen with the same feeling.
When it comes to laptops, there are usually two schools of thought – those who prefer the traditional clamshell design and those who prefer the more versatile convertible form factor.
However, Microsoft is hoping to change that with its Surface Laptop Studio, a device that combines the best of both worlds into a single package.
The Surface Laptop Studio features a traditional laptop form factor, but with a foldable touchscreen display that allows it to be used in tablet mode.
This makes it ideal for gaming, as you can simply fold the screen down and use the on-screen controls.
The laptop also features a "studio mode," which allows you to tilt the screen back and use it like a desktop monitor.
And finally, the "entertainment mode" lets you lay the screen flat and watch movies or TV shows without having to hold the device in your hands.
In short, the Surface Laptop Studio is a versatile device that should be able to meet the needs of most users.
Another factor to consider is the screen size and resolution of the laptop.
The Microsoft Surface Laptop Studio has an awe-inspiring rectangular shaped display with rounded corners and a touch display.
It has the best screen resolution with true to life color schemes. The NVIDIA GeForce RTX graphics is helpful to complete everyday tasks and different projects efficiently.
The laptop also has a great aspect ratio which makes it perfect for productivity.
ii) Performance
Microsoft Surface Laptop Studio is one of the best surface devices due to its profound features, unlike other surface devices by enabling ray-traced graphics to give a boost along powerful RAM to perform under intense utilization.
During video editing, you will have the best digital pen experience with the surface studio, unlike other simple laptops.
The slim surface pen is magnetically attached just beneath the lip of the system and is considered the most valuable item for professionals and business persons.
They can use the slim surface pen in their meetings, develop blueprints, and much more with this Microsoft Surface Laptop Studio.
The creative muscle feature in Microsoft Surface Laptop Studio allow you to perform your best.
More so during creative writing by making seamless transitions with its tools with the same functionality & also have the updated Microsoft office for better presentations and excel related work.
If you are searching for a PC that easily runs with the Office program, look no farther than the Microsoft Surface Laptop 3. 
The creative canvas tools are also a built-in feature for this surface device, used mainly by professionals in the design field.
Many of the software is available to be sold separately, which shows more compatibility.
In this surface device, Dolby vision support provides the best display along NVIDIA GeForce RTX as never experienced before, also suitable for enjoying smooth gameplay.
Moreover, the traditional hinge installed in this device allows the user to use the laptop in stage mode, studio mode, or laptop mode.
The Microsoft Surface Laptop Studio is a powerful laptop that features exceptional accuracy of sound quality.
The quad omnisonic speakers provide cinematic sound that is much better than a standard laptop.
The laptop also has a built-in subwoofer for an enhanced audio experience.
The laptop's design, performance, and sound quality make it an ideal choice for anyone who wants to enjoy the best possible audio experience.
Moreover, Microsoft uses tactile signals technology to provide its client with an experience they never had before.
iii) Thunderbolt
As we know, all the standard laptop brands concentrate on high-speed, so thunderbolt is a key to transferring the data between laptops & other devices.
Thunderbolt technology is beneficial for transmitting even a massive amount of data.
iv) Keyboard & Touchpad
Microsoft Surface Laptop Studio consists of an exceptional keyboard with the proper critical spacing, ensuring the user completes their tasks on time.
When we overall talk about the keyboard, it is a brilliant part of the laptop.
The touchpad is good but has a haptic touchpad, which is considered a flaw for Microsoft Surface Laptop Studio and can be addressed in the coming models because this haptic touchpad harms the sale of the laptop.
v) Ports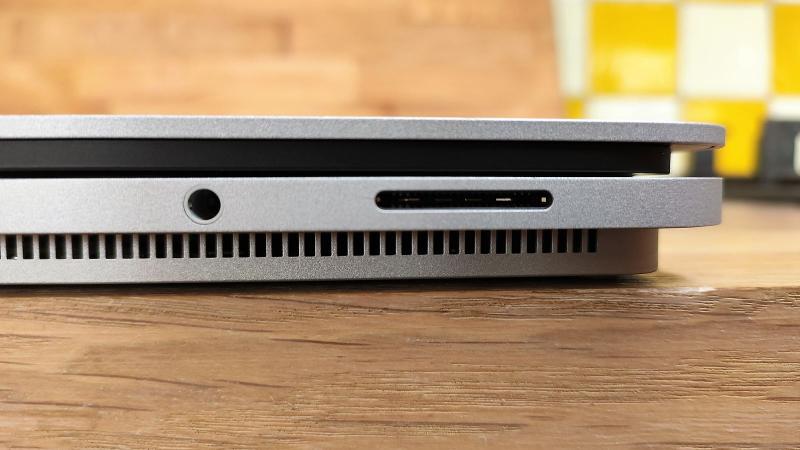 Ports selection matters a lot & makes this laptop a powerful surface laptop even though some ports are less practical.
With a perfect combination of USB C, Combo jack, and Surface Connect port which makes this laptop more connective, unlike the other regular laptop.
The more connective laptop you have, the more speedy you're all the tasks go; Microsoft Surface Laptop Studio features excellent connectivity of connecting external monitors while performing different tasks.
Battery Life
The laptop is used for heavy tasks, for instance, if it is being used as a gaming laptop, or rather being used for video editing or as a photo editing laptop.
The life span will be different as compared to a laptop used for Microsoft office.
Battery life is one of the factors which can cause huge damage & also make a company to the new height.
Microsoft works a lot in this Microsoft Surface Laptop Studio model to introduce the laptop world with its brilliant model with exceptional battery life.
Microsoft Surface Laptop Studio has an exceptionally long battery life of up to 14 hours, mixed-use with a single charge based on usage, network, and feature configuration.  
This laptop is a powerful work laptop. 
Battery life makes the laptop handier; once charged laptop can be carried out anywhere with you without the hassle of carrying the charger to charge your laptop again & again.
Laptops with better battery life are more convenient to take into meetings than regular laptops with average battery life.
Price
Microsoft Surface Laptop Studio is one of the most powerful surface laptops with impressive battery time, an exceptional processor, and amazing NVIDIA GeForce RTX graphics.
It is one of the best surface devices with studio mode, tablet mode, stage mode & laptop mode.
The price for the entry-level model starts from $ 1499, which is affordable, but when we compare the model with other devices on the market, then we see Microsoft Surface Laptop Studio on a high price tag.
Verdict
The Microsoft Surface Laptop Studio features powerful performance, perfect battery backup, and an affordable price. Microsoft Surface Laptop Studio is the best option if you purchase a laptop.
Microsoft Surface Laptop Studio provides updated Windows 11 with a robust Intel Core i7 processor with a massive storage capacity of 1 TB & sparkling 32 GB RAM to make the system function better.
The exciting features include converting Microsoft Surface Laptop Studio into different modes according to work and a beautiful display screen with a broader view.
Microsoft Surface Laptop Studio is a brilliant device with updated connectivity of Wi-Fi & Bluetooth.
FAQS
Is Surface Laptop Studio worth buying?
If you're in the market for a new laptop, the Surface Laptop Studio from Microsoft is definitely worth considering.
The first thing you'll notice about this laptop is its sleek, minimalist design.
The Surface Laptop Studio is available in four different colors, and it's made out of a single piece of aluminum, so it's both lightweight and durable.
It's also got a large, high-resolution touchscreen display that's perfect for creative work or watching movies.
And if you're worried about battery life, don't be – the Surface Laptop Studio can last up to 10 hours on a single charge.
So if you're looking for a powerful, good-looking laptop that's built to last, the Surface Laptop Studio is definitely worth checking out.
How much does the Microsoft Surface Laptop Studio cost?
The Microsoft Surface Laptop Studio has a high price tag, and the range starts from $1499 and increases with specifications accordingly.
Does Microsoft still make surface laptop studio?
Microsoft is not releasing Surface devices, although they may be updated in 2021. Surface Studio was launched in late 2016 & its follow-up was introduced in November 2018.