So, you are looking for a laptop that is lightweight but stylish in appearance. What else is better than HP Stream Laptop 14? It is one of the best laptops, and you will learn more about the device by reading a detailed HP stream Laptop 14 review. No doubt, it is excellent for the majority of the users who want versatility and HD quality image display. Not only this, but several other features make it an excellent unit for you.  
The HP Stream Series is successful, and it has many users where several others have failed. It is an inexpensive series of the model that is very easy to operate and highly efficient in completing your tasks. You will love it for the quality that it will not be a burden on your finance. So, if you want to know more its features, then have a look at HP stream Laptop 14 review. Best Laptops For QuickBooks you can also read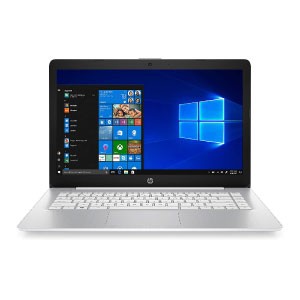 Overview of Hp stream laptop 14 review
The HP stream laptop 14 is an energy-saving product. These are available in competitive prices. These products are ideal for offering high-resolution and wonderful screen size. You will love using these items at your home and office. The modern vendors offer these products in a variety of color and sizes. These are all durable and contain modern technology. Learning about the features of these products, you will be able to get the best Buy HP series.
Appearance
The 14-inch laptop is sleek and slim. It is literally lightweight because you can weigh it that is about three pounds. If you are looking for a small device, then this is the right option for you because you can take it with you in the library, office, college or other places where you want. The laptop contains similar internal components like a microSD card slot and USB port 3.1. So, this nice looking laptop is highly amazing with its cool appearance. The bright blue color makes it more adorable for college students.
The stream Laptop is made of plastic material, and the plastic body contains ridges on the lid because it offers a solid grip with a great texture. The blue shade with the bright white keyboard makes it alluring for the majority of the users. If you are beauty conscious, then you will love this device for its unique design.
You can also check the Best HP laptops.
Chassis and equipment
Users who like to use this HP laptop have some options to decide between colors because it comes in four other colors except blue. Yes, it is good news for girls because they can choose their favorite color such as purple, blue and white other than blue. 
Its chassis is formed with the smooth plastic, but it is designed with the solid constructions. You will have easy access to the battery for maintenance or swapping. This lightweight device enables mobility for the majority of the users. So, you can take it with you in your daily transport in its bag without any hassle.
Keyboard
The solid and comfy keyboard is great for the users for offering a light pressure point and soft haptic feedback. All its keys are very simple to click and offer smooth touch because of the texturized surface. Therefore, stream laptop is pleasant to touch and offers a long time writing ease. You can attach mouse with it, but it is furnished with a click pad. The cursor movement is simple and quick in the entire area. So, if you want to do a right-click, you have to press down the pad in the low right corner.
It is an ideal source for gaming. You will experience new levels as you build them. Explore new content in real-time. You can use this processor to play the games online, video games, or others. It offers power to stream, game, and create simultaneously. A user can use this processor to enjoy iTunes, TV, Music, and many more.
Top Picks for you to read;
Processor
The Intel Celeron N3060 processor is highly efficient with the 4GB RAM, Intel HD graphics 400 and 32 GB storage. This high-speed processor gives high-end laptop users approach to the maximum horsepower. HP has launched its latest generation processor for all the HP stream series users, this year. The advantages of the new parts contain parts up to 32 cores, better frequency, better performance, and others. HP has introduced this device to offer convenience to all its users and laptop lovers.
This powerful processor unit supports all esports. Multiplayers play these video games. These are like a competition between professional players and teams.Enjoy Amp up Design. This processor is ideal for designing your 3D modeling projects and harnesses a complete suite of creative software to implement animation, adjustments, and bewitching additions.
Explore Best Laptops Under 600 
Display
This model contains a glossy TN LED panel with the 1366 x 768 mp resolution. It offers average brightness for the day users. What is new in this unit that makes it famous in the market? This device contains an auto load sensing that manages proper resolution and HD quality pictures. It offers a double capacity of any other brand's TV.
Noise regulation technology is used that controls vibration and noise. These items are great for offering high picture quality because HP never compromises on it. Make your experience memorable. This is the reason it will be the best Buy for you. No doubt, this unit is inexpensive and is available for home and commercial use.
This unit is budget-friendly, lightweight and compact. The model is designed as per all standards of quality. It is light and small enough that you can move it easily.
Top Picks for you…
Temperature
If the laptop's processor is not working, you will notice that the surface is not warm. Its temperature does not rise dramatically so you can use it for a long time. The device shuts automatically after overheating. The high-quality material and other parts are BPA free. All these parts are lightweight, easy to remove and assemble. Moreover, the removable parts are safe to use in any condition.
Battery
With a powerful battery and 10 hours battery timing, this is a wonderful device for you. Its battery comes with a wide operating temperature range. You will find this battery very easy to install and remove. Moreover, HP battery is very easy to access in the market. For high-quality performance, this unit has created a great demand.
User's friendly
This HP stream 14 laptop is user's friendly and these are great for you. These are very easy to operate, and the majority of people love using these items. Its high-quality speakers offer crystal clear sound quality. You will enjoy music and videos in a better way. Having an HP stream laptop 14 will be a wonderful opportunity for you. These are available in the best quality and competitive rates.
Specifications
Windows 10 Home 64-bit operating system
14-inch display screen
1600NHZ and 4GB DDR3 SDRAM storage
glossy TN LED panel
1366 x 768 mp resolution
USB port 3.1.
Pros
It is a lightweight and attractive device
The 14-inch laptop comes with a long – battery life.
It is good for streaming media.
Several expansion ports
Includes office 365 personal for one year
1 TB of OneDrive cloud storage
Cons
Screen quality is not good
Touchpad does not work quickly
Storage capacity is on-board partly
Final Verdict
Enjoy the best Buy HP stream laptop 14. You have learnt many things about the device in this HP stream Laptop 14 review. It is always a cool choice for the majority of the families in terms of budget and functionality. These things have advantages of placing your most utilized things before you. It makes it simple to get to these things without any problem. The cutting edge laptops are perfect for giving you the ease of working. No doubt, with ergonomic design and efficient functions, it is a user's friendly device.