We live in a world where we are constantly connected. We have cameras on our phones, best drones flying through the sky and even virtual reality headsets to help us escape from the hustle and bustle of life.
When it comes to photography, drone technology has been advancing at a rapid pace with new features being added for every model that is released. The Parrot Anafi Drone is no exception to this rule.
Its sleek design makes it ideal for beginners who want an easy-to-use option without having to spend too much money or more experienced pilots looking for a portable machine that can be used in any weather conditions.
Parrot Anafi Specs
Takeoff Weight
Approximately 795 g
Diagonal Distance
245 mm
Photography
1/2.3" CMOS, 12MP, JPEG
Video
4K/60 fps
Max. Speed
87.24 mph
Max Flight Time
20 min
Max Flight Distance
16.8 km in a windless area
Drone Dimensions
255×312×127 mm (with propellers)
178×232×127 mm (without propellers)
Obstacle Sensing
Downward & Forward
Wind Resistance
Level 6
Operating Frequency
2.400-2.4835 GHz
5.725-5.850 GHz
Motion Controller
Yes
FPV Goggles
Yes (V2)
Drone Specs
Parrot Anafi Drone Review: Pros and cons
There are some benefits of having a parrot Anafi drone and it also has some drawbacks. However slightly limited.
Parrot Anafi Drone Review: Features 
The camera of the Parrot Anafi drone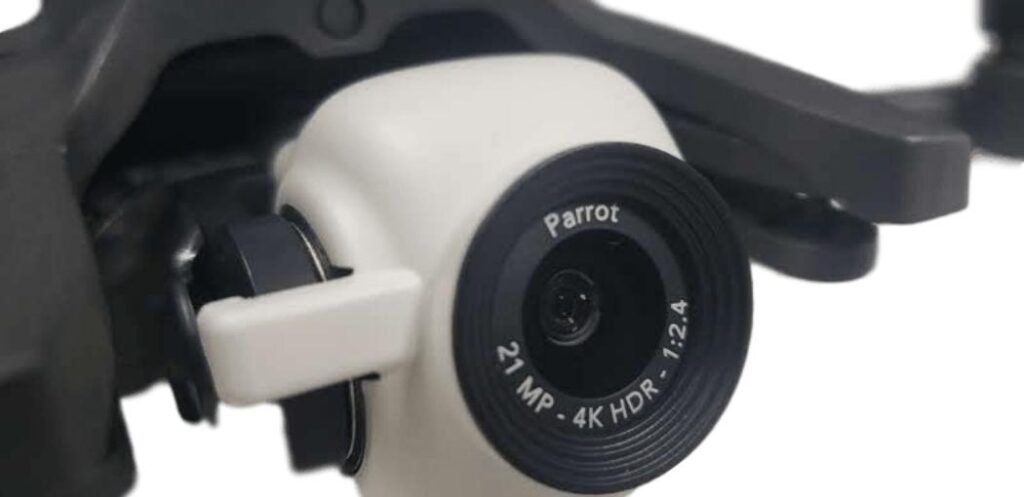 The drone comes with a quality camera that can shoot 4k videos. The lens can zoom phots 2.8 times before taking the snap. In addition to that, it has a digital video zoom of about 3x.
This makes it incredible for people who are looking to venture into aerial photography. With the digital zoom pictures, videos and pictures become clear and of better quality.
The lossless lens of this drone can zoom about 1.4x and 2.4x when shooting in 4k and in 1080p modes, respectively.
The drone comes with a 3 axis gimble stabilization to ensure that your images and footage are crisp and clear. This help in minimising digital noise.
Safety features
The Parrot Anafi Drones has some safety features like an integrated GPS that helps you locate the drone in case of anything. With that said it also comes with a return home feature that works with the GPS to lock the takeoff point.
The drone has downward sensors which help the drone to balance when taking off, landing the drone and also when hovering.
The drawback about this drone is that it does not have an obstacle avoidance feature which I think is very crucial for kids and beginners in general.
Parrot Anafi Drone Review: flight time and range
The drone has an average flight time. Some of the high-end drones can fly for more than half an hour. For instance, Mavic Air 2 Drone can fly for 34 minutes to be very precise.
The Parrot Anafi drone can fly continually for a period of 20 minutes. This is considered as average flight time because the low or entry-level drones can fly for about 10-15 minutes.
For me, I think the flight time is not bad. I would advise that you add some more battery back for more flight time.
The Parrot Anafi drone has a flight range of about 4-5Km when using its controller.
Parrot Anafi Review: Design and Overview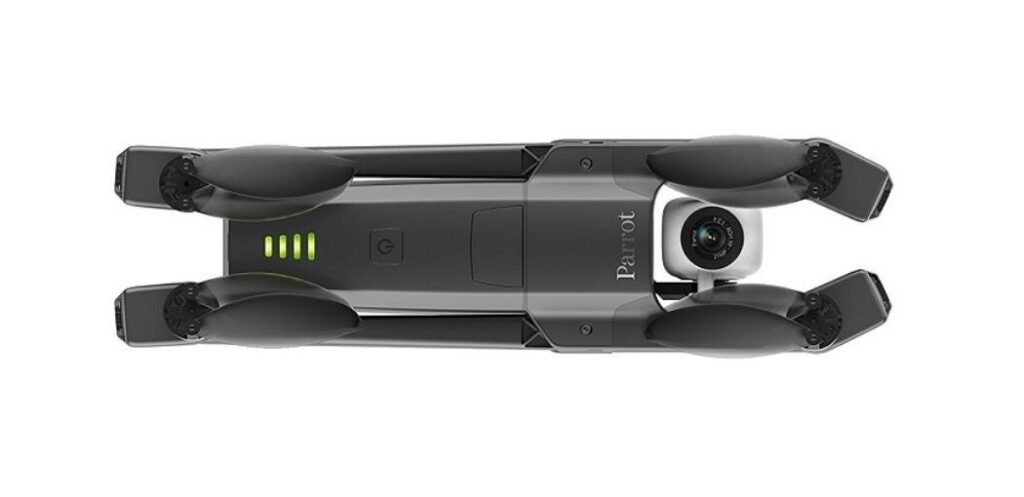 This is a lightweight and portable drone. The drone is foldable and also has an aerodynamic body.
The drone weighs about 320g which is less when considering other consumer drones on the market. For instance, it is lighter than the DJI FPV Drone which comes with a weight of about 795g
This drone is best for travellers or rather it is a good choice for the people who are always on the go.
Parrot Anafi Drone Battery Life & flight performance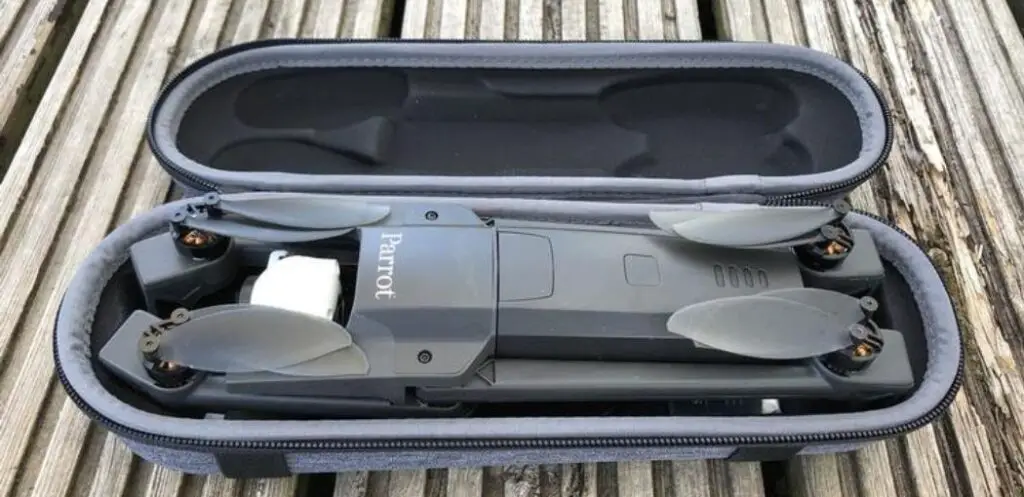 The drone has a flight time of about 25 minutes. The drone can incredibly accelerate to a speed of about 55km/h in under 3 seconds.
Parrot Anafi comes with 4 modes which make its flight performance incredible. The drone has cinematic, racing, film and sport mode.
These bring incredible performance. Not all drones at this price point have all these features. Flying this drone is very simple, the return home burton and the normal mode should give you more confidence to fly this beast.
This drone has an altitude hold which can be activated via the settings. It also comes with an fpv system that I sued with a smartphone. This increases the flight experience and performance.
If you are a total beginner or an entry-level person which means you have the basic know knowledge of how to fly a drone, then you should try this drone.
Parrot Anafi Review: Price & Availability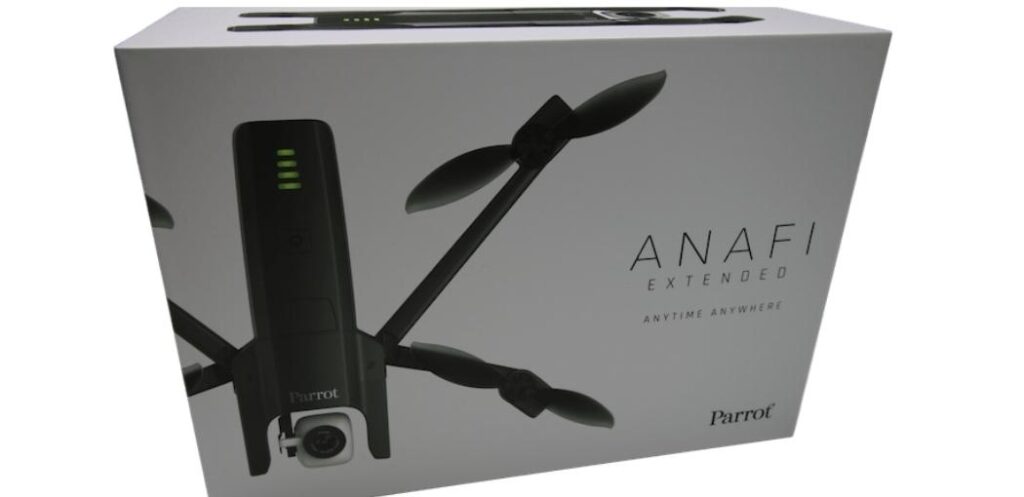 The drone was available on market by 2018. You can buy this drone via amazon. Parrot Anafi cost $499 which falls under the best drones under 500 dollars.
While the extended Anafi cost $599. However, if you opt for the FPV version of the Parrot Anafi drone, then it will cost you $899.
A disclaimer: the above-stated price are when I wrote this Parrot Anafi Review
Parrot Anafi review and unboxing video
Parrot Anafi Review: Conclusion
The Parrot Anafi Review has been a great source of information for those who are considering purchasing the drone.
It's helped us decide that this is something we want to invest in and it will be worth our time and money.
We've found out about all of the different features, how much they cost, what you can do with them, as well as some pros and cons from other customers.
All in all, I think this review has been helpful! If you're on the fence about buying one or not sure if it's right for your needs, take a look at this guide before making any decisions.
Parrot Anafi Review: FAQ's
Is Parrot Anafi any good?
Yes, Parrot Anafi is a fantastic drone. It has great features, it's lightweight and easy to fly because of its size. Try flying this and won't regret it.
Is Parrot Anafi discontinued?
Yes, Parrot Anafi is discontinued. The Parrot company has stopped producing more drones. This is also backed up a spokesperson interrogated by theverge
Does the parrot Anafi have obstacle avoidance?
No Parrot Anafi drone does not come with obstacle avoidance. Which is a disadvantage to beginners.
Does parrot Anafi have zoom?
Yes, I have stated it in this guide. Parrom has a zoom lens that is lossless and can zoom about 1.4x and 2.4x when shooting in 4k and in 1080p modes, respectively.
Does parrot Anafi shoot raw?
Yes, the Parrot Anafi drone can shoot raw pictures. This is because the drone comes with a 12-megapixel camera which has the capabilities of shooting raw.
Related articles: