If you are like most people who couldn't resist using their Smartphone, from checking emails to posting status on Facebook, it's tough to stop using your Smartphone these days. But you know what you could make the most out of your day with your Smartphone. Yes, Mobile devices are a great source of taking photos and video, and in this tech world, you need to meet the demands of the technology. Learn these 15 pro tips on how best to vlog on your phone.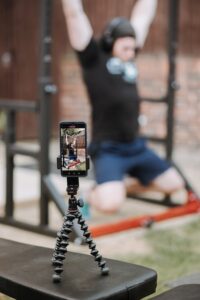 Technology demands innovation. Have you ever thought about creating your Vlog using your Smartphone or tablet? There are over 15 pro tips on how best to vlog on your Phone. You might wonder how can I create a Vlog on my Phone, Of Course! Yes! You can. The phone you are holding right now must have a High-Quality Camera with which the video can be shared over social media networks.
[bctt tweet="15 pro tips on how best to vlog on your phone. To record a good YouTube video on a phone, you better check out a good guide to learn some tips and tricks" username="httpswwwtwottercomAnwar_mzee"]
You might only capture family moments with your camera, but now is the time when you need to make a vlog on your Phone. Many people love to make vlogs on their smartphones. They create Quality content using their mobile devices as it's more affordable and comfortable to use your Phone to make the best Vlog on your Phone because it's the most important thing that you carry along with you all the time.
Just focus on your goal. Vlogging isn't as hard as it looks. You need to prepare your equipment and your preparation for Vlogging. Check out these 25 tips on how to become a successful Vlogger in 2021. 
Take some time and ask yourself how to start a vlog. Just imagine yourself being a pro vlogger and giving advice to people on how to create a vlog.  A girl from Russia  Name" Anastasia Radzinskaya" earns $18 million annually from her YouTube channel. Mr. Beast, also knownJimmy Donaldson, started his YouTube channel by filming videos of himself on his iphone5 in his bedroom.
Must Read: Best Overrated Vlogging Camera
Even though he has a smartphone, this 21 years old from North Carolina runs one of the fastest-growing YouTube channels in history.  Every single video of Mr Beast uploaded on Youtube in 2019 gets over 10 million views. If you want to be super successful and make millions of Dollars by vlogging on youtube, you need to focus on these.
15 pro tips on how best to vlog on your Phone. Another great example is Alisha Marie, a Vlogger. An interview of her on youtube reveals how she become successful. She stated that she loves cameras and editing. She also announced how she become so popular on YouTube. People often asked Alisha that what kind of Camera and equipment she used?
She answered:
I wouldn't say I like spending so much time on all of that. Just use the best Camera you have. That's so much more to YouTube.
These were the examples, but I didn't panic at all. By reading this article, you will have a clear vision of how you will starting with your vlogging by using your Phone. How much to invest in the beginning. You can anytime switch to any cheap camera for vlogging. Stop worrying too much and read our quick guide on 15 pro tips on how best to vlog on your Phone.
15 pro tips on how best to vlog  on your Phone

We bet you if you open up your Instagram account, you will encounter several random people promoting several brands. People now become online influencers to promote products. Vlogging and becoming an influencer are the same things. You earn by making a video, and in your video, you can promote anything from any product of any smaller brand to help them gain profit to encourage any local campaign.
Influencers and bloggers make videos to make income. According to the influencer management platform Traackr, 72% of many big brands stated that they dedicate a sizeable portion to the online influents for marketing purposes. If you become a vlogger, you can make millions by gathering your potential customers and subscribers. Now you know that you can use your Phone and start vlogging to earn some handsome amount on your own.
We have compiled up 15 pro tips on how best to vlog on your Phone. With a little bit of practice and information, you can make high-quality professional Vlogs using your Smartphone.
1. Use a tripod
From making vlogs through your Phone you need to have a  Tripod. Invest up to $30 and buy an excellent Tripod for your Smartphone. A tripod has a 3-legged mount that stabilizes the image and restrains the image from blurring while you shoot. Some essential Tripod can be under $20 as well.
2. Find good lighting
Find a place where you could get perfect lighting. While making vlogs using your Phone you need to make extra adjustments. Perfect lighting depends upon the success of your Vlog. If the Video Quality is evident, then you will be happy with your videos made by your Phone. You can use a ring light, softbox, or a complete lighting kit. We recommend you use Fluorescent bulbs. These enhance the daylight similarity in your video.
3. Do a Voice Over or attach an external microphone
Another important tip on how best to vlog on your Phone is to have an external microphone that can help deliver direct audio to your Vlog. You can also consider doing a voice-over while editing your Vlog.
4. Switch to the Flight mode While you Shoot
Many unfortunate moments occur while you are shooting a long video from your Phone. Always try to keep your phone in Airplane mode while you hit your Vlog. It will save you battery life and block all the calls and notifications from diverting your mind. Calls might interrupt your Vlog, so always try to put your phone on Airplane mode while you shoot your Vlog.
5. Set the Frame and Hold the Smartphone in a horizontal position
Make frame arrangements. Set your phone in a horizontal position. Make a nice angle and put the frame in a horizontal position.
6. Always Pre-record your video
Focus on pre-recording your video footage. You can create smaller intervals of 10-15 seconds to see how the frames capture you and your background and see if you are happy with the structure and audio. Please don't get frustrated at the start when your video will fit the frame; you don't want yourself to repent after watching your 30 minutes long Vlog, and it's not what you wanted. So always focus on pre-recording your video first.
7. Frame the Vlog
Set the grid—work according to the rule of thirds. Sit in the middle of the video while you capture your video. This way, you can assure yourself that you are sitting in the best position and the background is a bit blur.
8. Do not edit Too much on the Phone
If you have made the Vlog using your Phone, you should avoid editing your Vlog on your Smartphone. It's very comfortable and easy to edit a video on your computer. It's a decent way to edit video professionally so no one could recognize that you have captured your video by your Phone.
9. Consider the quality
Believe us or not, but sometimes a smartphone's camera quality is better than any usual mirrorless camera. YES! Latest phones like Huawei Samsung and has incredible cameras on the front and back. They provide fantastic quality video that you won't find in any usual pocket-sized camera, which is perfect for vlogging.
10. Free up Some Storage on your Phone
Make sure always to have some space on your Phone. Always transfer the video you have made already, post it online, and Delete it immediately from your Phone. Don't forget to finish any video that you have been filming, transfer the files to your computer and free up some storage in your Phone to shoot more videos.
11.Ideas and Inspiration
Before setting up everything, you need to make up your mind and clear the idea of what you will be Vlogging about. When you say I want to start vlogging, the next thing you should ask your self what to vlog about? what you are fond of? What your expertise is. Consider yourself and your interests first for Vlogging inspiration ideas. Otherwise, you might get bored soon.
12.Learn How to Record a Good Video on a Phone
It would help if you made several things clear in your head before recording a good video on the phone. Clear the Camera lens with a damp cloth.  Put the Phone in a horizontal position while you shoot. Try to always focus on the lighting.
13. Start with the Right Settings of Your Phone
Before you have scheduled everything around before vlogging, go into your Phone's setting. Check your Phone's storage first. Check the battery level. Explore the camera setting options.
14. Pick up the Right Smartphone Vlogging Accessories
If you want to invest in, you can purchase some smartphone vlogging accessories like a microphone, external camera lens, Tripod, etc.
15.Edit Your Videos
Now that your footage is ready and in a state where you want to edit it, you should create a quality mini-movie within minutes. You just need a smartphone and some application that can do the final finishing for your Vlog.
Below we have mentioned some video editing apps which are the most popular among Vloggers. Check them out:
What video editing apps are the most popular among Vloggers?
1. iMovie (iOS)
2. ActionDirector (Android)
3. InShot (iOS and Android)
4. Quick (iOS and Android)
5. Adobe Premiere Clip (iOS and Android)
FAQ
Question no: 01
How to make a YouTube channel for Vlogging on your Phone?
Open the Youtube App.
Sign in to YouTube.
Now  and tap on the user icon at the top right corner
Tap on "Settings"
Tap on "Create a new channel."
Choose "Use a business or other name."
Add your Vlog's name here and choose "Create."
For further queries, you can check out YouTube Help.
Question no: 02
How to make money Through Vlogging on YouTube?
To earn money through YouTube and vlogging, you should first Switch on the monetization feature on your channel. After this, connect it to your AdSense account. After this step, you will be paid for showing any advertisements on your video.
Check out YouTube Help for more details.
Question no: 03
How much money do I need to start a  Vlogging YouTube channel?
Creating any Vlogging Channel on Youtube is free of cost. You don't have to pay for subscriptions for your vlogging channel. Nowadays, you can find equipment for any budget. So always focus on your gadget. You don't have to invest in your channel; however, you need to invest in the best Camera under $600.
Conclusion:
Find ways towards success, and even if the success road is under process, make one for your own. Go through every detail that we have mentioned above and know your worth. Just be yourself and start Vlogging. Always take smaller steps towards your journey and get success. Many Vloggers are spending hours and hours promoting their Vlogging videos. Always make the best quality content. If you have some tips regarding how best to vlog on your Phone feel free to leave a comment below.