DJI has been dominating the drone market for years with their flagship Mavic Pro model.
The new Mavic Air 2 is a fantastic upgrade to the original, but there are some tradeoffs that you need to be aware of before deciding if it's right for you.
Read on to find out more about what this drone has to offer and why we think it's one of the best drones on the market today!
The DJI Mavic Air 2 is one of the recent and most advanced models in their drone lineup.
With a high-performance camera, powerful flight modes, and long battery life it's hard to find something that this drone can't do.
However, there are some things you should know before buying one for yourself. In this article, we will discuss everything from design to price so you can make an informed purchase decision.
DJI Mavic Air 2 specs
Takeoff Weight
Approximately 570 g
Diagonal Distance
302 mm
Photography
1/2″ CMOS, 48MP
Video
4K, 2.7K, FHD
Max. Speed
42.5 mph (S-mode)
Max Flight Time
34 minutes
Max Flight Distance
18.5 km
Drone Dimensions

Folded: 180×97×84 mm (Length×Width×Height)
Unfolded: 183×253×77 mm (Length×Width×Height)
Obstacle Sensing
Backwards & Forward
Wind Resistance
Level 5
Operating Frequency
2.400-2.4835 GHz
5.725-5.850 GHz
Controller
Yes
Internal Storage
8 GB
Drone Specs
Mavic Air 2 Review: Pros and Cons
There are many pros associated with this drone. The drawbacks are also present although very minimal and highly neglectable. Without further ado, let us have a look a the pros and of Mavic Air 2
DJI Mavic Air 2 Design and Overview
The Mavic Air 2 comes in a compact design, This product DJI is also one of the best Foldable drones.
This makes it portable and easy for people to carry around. Although it is slightly heavier than other models that do not limit it.
The uniqueness of the model is highly preserved in that you can't even switch parts with other DJI drones.
As a matter of fact, you can not swap things like propellers, remote control and even the battery of Mavic Air 2 with other Mavic models.
Mavic Air 2 Review: Drone features
Mavic Air 2 camera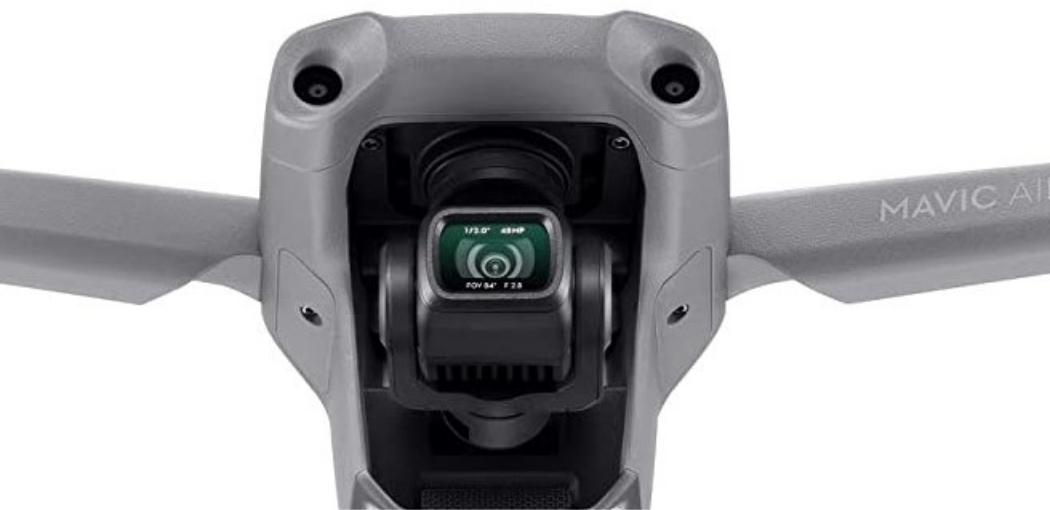 DJI Mavic Air 2 drone comes with a quality camera. The sleek DJI Mavic Air, now with matching camera specs. With an enhanced sensor and upgraded lens, this is one of the most high-quality drones around.
The drone can shoot in 4K video at 60Fps. This drone has taken care of the welfare of videographers and photographers alike.
The camera sensor is bigger than most drones with an equivalent of 24mm with an f2.8 aperture.
This feature gives the Mavic Air 2 drone to take incredible pictures at 12 megapixels. In addition to this, you can still take pictures of up to 48Mp with it.
The drone can shoot in slow motion at 120Fps. This feature is very unique and there are not many drones that have it.
It also has a panorama mode which allows you to take 360-degree photos with the push of a button. The best thing about this drone camera is its stabilization because DJI Mavic Air is an integral part of the stabilization system.
Mavic Air flight time and range
The camera quality may be high, but it does require power to keep going. This drone comes with a battery life that lasts for 34 minutes after being fully charged.
It's very important that the batteries are removable as this will allow you to fly your drone in the event that you need to replace them.
This feature is very important because it gives you more time to enjoy your drone and fly for longer.
The battery life of Mavic Air has an impressively long-range, 6 miles of flight.
Mavic air 2 Flight modes
The Mavic Air 2 comes in different modes. However, it is highly advised that you use the Normal mode as posed to the sport mode as it has its own repercussions.
For instance, obstacle avoidance does not work well in sport mode. You will probably switch to sport mode when you want to race.
Mavic Air 2 Saftey fetures
This drone comes with obstacle avoidance features which can be very handy for beginners.
The drone has its obstacle sensors located at the front, back and rear of the drone. The pilot will be notified whenever he/she nears an obstacle.
In addition to that, the drone comes with Air sense technology. This technology improves the safety of the drone and its pilot by notifying any presence of another aircraft.
The drone receives signals known as ADS-B from helicopters and aeroplanes. When the air sence technology passives the signals it send the signals back to the drone controller.
This will help the drone pilot to act accordingly. Although a little disclaimer, the Mavic with Airsense technology is not sold everywhere. Please consult with the manufacture if it's a feature you require.
Content of Mavic Air 2 Package
Mavic Air 2 Aircraft × 1
Remote Controller × 1
Intelligent Flight Battery × 1
Low-Noise Propellers (Pair) × 3
RC Cables (USB Type-C) × 1
RC Cables (Lightning) × 1 (on remote controller)
RC Cables (Standard Micro-USB) × 1
Spare Control Sticks (Pair) × 1
Gimbal Protector × 1
Battery Charger × 1
Manuals × 1
AC Power Cable × 1
Type-C Cable × 1
DJI Mavic Air 2 Review and unboxing video
Our Conlusion on DJI Mavic Air 2 Review
In conclusion, the DJI Mavic Air 2 is a great drone. It has an excellent design on paper and in practice. The DJI Mavic Air 2 is a fantastic drone for those who want to get started with aerial photography and videography.
Its compact, foldable design makes it easy to travel with- perfect for the diehard traveller or remote worker.
Feel free to leave any questions for us in the comment section below and we are happy to answer in the shortest time possible.
DJI Mavic Air 2 Review: FAQ's
Is Mavic Air 2 good for photography?
Yes, it is good for photography. As we have discussed in our Mavic Air review that the drone can shoot in 4k and 60FPs speeds. The drone camera can execute 12Mp. This drone is good for photography or rather should I say it's one of the best camera drones.
Is Mavic Air 2 able to shoot in RAW?
Yes, it can. You just need software that will convert the .dng file into one your computer is compatible with such as Adobe Photoshop or Lightroom.
Does it have a gimbal to keep footage stable?
It does! The drone includes both mechanical and digital stabilization for your camera so you can enjoy smooth footage throughout each flight.
How high can the Mavic Air 2 go?
The drone can fly as high as 500m and a range of about 11km. This answer is backed up by the DJI forum. Nevertheless, there are some rights that you are not supposed to pass. It is part of the drone regulations.
Is Mavic Air 2 easy to fly?
Yes, Mavic Air 2 drone is easy and actually fun to fly. This drone is equipped with lots of safety features and easy modes for you to penetrate. There should be no course of alarm. Just read the user manual.
Can the Mavic Air 2 zoom?
Yes, the Mavic Air 2 can zoom very well. This is always available on the specs page. The Dji have also stated that zooming capabilities are available within this gadget.
Related articles: